Explore the best email platforms for efficient communication. Find top picks and enhance your email experience with our article.
Throughout history, businesses have consistently embraced these communication advancements to pioneer new ways of connecting, marketing, and fortifying their relationships with customers.
Amidst this evolution, email has emerged as a steadfast channel for fostering personal bonds with customers. It continues to excel in enabling entrepreneurs to communicate effectively, streamline operations, drive marketing efforts, and cultivate a distinct brand identity.
With an astounding ROI of $32 to $45 for every $1 invested, email marketing stands out as a high-yield strategy. Given this compelling statistic, it's imperative for every visionary entrepreneur to have access to an email marketing platform that caters precisely to their unique requirements.
However, for those who find the mainstream options lacking or are entrepreneurs aspiring to construct their own distinctive email marketing platform, the journey begins with understanding the investment involved in hiring a skilled software engineer.
Today, we present a selection of robust email marketing tools poised to empower you in tracking, refining, and achieving optimal outcomes.
Understanding Email Marketing
Embarking on our exploration, let's delve into the essence of email marketing.
Email marketing serves as a direct and digital marketing avenue, leveraging emails as vehicles to showcase a brand's products and services.
Much like discovering a memorable company name enhances customer recognition, email marketing possesses the potential to etch a company's brand identity deep within its clientele.
The realm of email marketing platforms presents an array of invaluable tools for elevating your brand's prowess in direct response marketing.
These platforms serve as instrumental aids, enabling businesses and marketing managers to effortlessly craft captivating content. Simultaneously, they elevate the overall caliber and effectiveness of email marketing campaigns.
Email marketing's spectrum encompasses both transactional emails—automated correspondences triggered by customer transactions or interactions with your business—and direct response emails. The latter facilitates meaningful communication and connection with your cherished clientele.
The Effectiveness of Emails
What maintains emails as an enduring cornerstone of effective marketing strategies?
A pivotal element in shaping a potent email marketing strategy revolves around identifying the ideal email marketing platform, finely attuned to your business's distinctive requisites.
Casual observers might speculate that emails will inevitably wane in significance over time, influenced by the meteoric ascent of social media platforms such as TikTok.
Yet, upon scrutinizing the data, a different narrative emerges, showcasing the resolute prowess of email marketing. A noteworthy McKinsey report underscores that email marketing boasts an efficacy 40 times greater than that of marketing on Facebook and Twitter combined.
With such astounding returns on investment, it's hardly astonishing that email marketing triumphs over social media counterparts. It proudly retains its status as one of the most indispensable marketing conduits—a cornerstone for any aspiring business seeking to flourish.
Nonetheless, attaining optimal outcomes from email marketing rests on a confluence of factors, ranging from meticulous customer and market research to the artistry of copywriting and the chosen email marketing platform.
To infuse a client-centric ethos into your campaigns, harness the capabilities of email finder tools, allowing you to laser-focus your communications on your intended audience.
Segueing into the realm of email marketing platforms, presented here is a concise overview of the finest contenders poised to imbue your email campaigns with that quintessential spark.
Top Email Platforms:
1. Omnisend
Omnisend stands tall among the elite email platforms available today. This platform is designed with a singular focus on streamlining and simplifying the email marketing journey, ensuring that even newcomers to the field can navigate it seamlessly.
Notably, Omnisend seamlessly integrates with major e-commerce platforms like WooCommerce and Shopify through a convenient one-click process, making it an ideal choice for e-commerce visionaries stepping into the realm of email marketing platforms.
One of Omnisend's standout features is its visually intuitive drag-and-drop campaign builder. Widely acclaimed as one of the finest in the market, this feature empowers users to craft exquisite emails with ease, even if they lack familiarity with HTML coding.
A remarkable facet where Omnisend truly shines is its Omnichannel marketing automation capability. Esteemed brands have harnessed Omnisend's pre-built, automated workflows to execute sophisticated email marketing campaigns with finesse.
Omnisend's intelligent segmentation functionality empowers users to precisely target customers based on their purchasing behavior. Notably, the platform also supports retargeting ads on both Facebook and Google.
Omnisend offers a range of subscription plans, beginning with a free plan for up to 500 subscribers, followed by the Standard plan at $16 and the Pro plan at $59.
2. ActiveCampaign
ActiveCampaign stands as another remarkable contender in the email marketing arena. What sets it apart is its central reliance on machine learning as a driving force.
Distinguished by its predictive action, ActiveCampaign goes beyond conventional solutions by providing ingenious remedies for intricate marketing decisions. Its prowess in employing pre-existing workflows to nurture leads and automatically enhance sales funnel results further solidifies its reputation.
Data collected by ActiveCampaign harmoniously integrates with its in-built CRM, offering advanced lead-scoring capabilities for marketers.
ActiveCampaign exhibits exceptional performance in achieving high email delivery rates—a testament to its efficacy in minimizing emails marked as spam. This translates to a higher likelihood of emails sent through ActiveCampaign reaching the primary inboxes of platforms like Outlook and Gmail.
ActiveCampaign is a paragon of integration, supporting over 850 marketing-related applications including WordPress, Shopify, Facebook, and more.
With a starting subscription for 500 contacts, ActiveCampaign offers a Lite plan at $9, a Plus plan at $49, and a Professional plan at $149.
3. MailChimp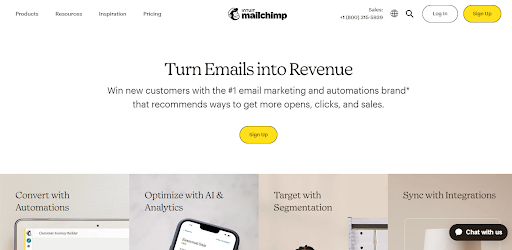 Mailchimp's status as a pioneer in email marketing software is indisputable. Commanding a substantial 70% share of the email marketing sector, the platform caters to millions of users who collectively send over a billion emails each day.
Mailchimp's evolution from its humble beginnings has led to its establishment as an industry standard, all while maintaining its core simplicity.
The platform offers an extensive drag-and-drop email builder interface and a rich variety of templates, enabling the effortless creation of intricate email marketing campaigns.
Mailchimp empowers users with advanced automation capabilities that can be programmed based on customer behavior, such as pages visited and specific dates like signups or birthdays.
Noteworthy features include A/B testing and retargeting ads, both yielding excellent results.
Mailchimp distinguishes itself with a thoughtfully tiered pricing strategy. Ranging from free to Essential at $11, Standard at $17, and Premium at $299, their approach ensures accessibility to a diverse range of users, from budding entrepreneurs to industry leaders.
For additional savings on your Mailchimp subscription, explore discounts and coupon codes available on DontPayFull.com, a platform offering deals and savings across various brands and services.
4. HubSpot
HubSpot's influence extends beyond mere email marketing, encompassing a comprehensive marketing platform that holds the potential to revolutionize your business. At its core, HubSpot serves as a robust customer relationship management (CRM) platform, seamlessly integrating with Outlook, G Suite, and Gmail.
Specially tailored for SaaS companies, HubSpot empowers users to dispatch customized emails with ease. Its user-friendly drag-and-drop functionality, coupled with a robust email editor, makes the email marketing process a breeze.
Yet HubSpot's offerings don't stop there; the platform boasts an array of additional customer relationship tools. These include contact management tools, website lead capture forms, extensive analytics, email tracking, potent personalization, segmentation lists, and vital automation tools.
In comparison to other platforms featured, HubSpot's monthly subscription plans range from the Starter plan at $45, the Professional plan at $800, to the Enterprise plan at $3600. The platform, recognized for its exceptional performance in driving digital marketing across businesses, is a premier choice for your marketing endeavors.
5. MooSend
MooSend emerges as a versatile email automation platform, tailored to empower users to build robust email lists, curate personalized emails, and automate critical tasks. This strategic approach allows managers to channel their energy into cultivating strong brand relationships with their customers.
One of the most significant advantages of leveraging MooSend lies in the exceptional value it provides to customers. The platform's features offer a remarkable cost-effective solution that far outweighs its actual expense.
MooSend boasts a suite of high-performing drag-and-drop features, complemented by impressive templates and autopilot campaigns. The beauty of these features lies in their accessibility, requiring no prior knowledge of HTML coding.
A standout feature of MooSend is its personalized email function, which harnesses the power of artificial intelligence to suggest product ideas based on shared preferences, past purchase history, and visited pages.
Furthermore, MooSend's analytical tool delivers profound insights into customer behavior, all the while maintaining user-friendly simplicity.
MooSend's pricing structure is inclusive, commencing with a free plan, while the monthly Pro plan, designed for 500 subscribers, is priced at $9. For even more value, the annual Pro plan offers a budget-friendly option at just $7 per month.
6. Brevo
Brevo emerges as an exceptional option for small business owners operating on a modest budget. Its free plan holds a distinct edge in the market, providing users with limitless contacts and 300 daily emails.
Brevo takes its offerings a step further by extending CRM capabilities, encompassing workflow automation for up to 2,000 contacts, and live chat services—features readily accessible within their free plan.
The platform embraces the wave of innovation by integrating machine learning and AI support, capitalizing on these technologies to amplify marketing output and engagement.
Brevo's analytics tools provide comprehensive insights into metrics such as click-through rates, open rates, heat maps, and deliverability—crucial data for enhancing marketing strategies.
Renowned for its industry-leading email automation workflow, Brevo allows users to establish triggers and pre-arrange customized workflows based on customer choices.
Brevo's offerings span various tiers: a free plan, a starter plan at $25, a business plan at $65, and an enterprise plan at $1000 per month.
7. Constant Contact
Constant Contact emerges as the quintessential email tool, designed to cater to the needs of small businesses and individuals embarking on their journey to brand promotion through emails. The core strength of this software lies in its unwavering simplicity, with each feature meticulously developed to enhance user experience based on their unique requirements.
With a multitude of meticulously crafted and easily adaptable custom templates, Constant Contact accommodates any message, brand, and business seamlessly.
Constant Contact generously offers a 60-day free trial, alongside two paid plans: the Core plan, starting at $9.99 per month, and the Plus plan, which is available from $45 per month.
8. MailMunch
MailMunch emerges as a robust lead generation and email marketing platform, providing marketers with unparalleled control over their marketing campaigns.
Enabling users to craft stunning landing pages, emails, pop-ups, forms, and coupons, MailMunch goes a step further by introducing spin wheels into their email arsenal.
The promise of automation with MailMunch translates to heightened conversion rates, complemented by advanced tracking for in-depth analysis of campaign performance.
MailMunch's journey builder feature creates simple and user-friendly pricing funnels, while their diverse offerings also include over 1,000 responsive HTML email templates, Shopify landing page templates, and a cart abandonment tool to minimize bounce rates.
MailMunch presents two options: a monthly premium plan at $19.99, and an annual premium plan priced at $13.99 per month.
9. SendPulse
SendPulse seamlessly integrates email campaigns within its robust marketing automation platform.
Beyond conventional email marketing features like transactional emails, email verification, and template building, SendPulse embraces a holistic suite of tools tailored for small business marketing.
Exploring conversational marketing with chatbots, minimalist landing page design, and SMS marketing are all part of SendPulse's diverse offerings.
An exclusive tool, Automation 360, empowers marketers to combine various marketing channels into a unified message flow encompassing emails, SMS notifications, and chatbot responses across prominent social media platforms and messengers.
In terms of pricing, SendPulse offers a compelling free plan with 15,000 monthly emails and an integrated CRM. For those seeking enhanced features, paid plans start at $7 per month, offering an array of automation options and customization capabilities.
10. GetResponse
GetResponse emerges as a comprehensive online marketing platform, meticulously designed for brands centered around webinars. The platform encompasses email marketing campaigns, webinar software, automation features, and high-converting landing pages.
GetResponse's hallmark Autofunnel, a superior funnel-building tool, showcases over 30+ landing pages, unique email templates, and sequences engineered to drive sales.
What sets GetResponse apart is its adaptability to diverse business goals. Whether focused on lead generation or webinar sales, GetResponse tailors email sequences to align with each unique objective.
While excelling in niche-specific features, GetResponse also offers standard email marketing tools, including segmentation, A/B testing, autoresponders, and seamless software integrations.
Pricing plans encompass a range of options: from a free tier to monthly plans starting at $19 to $119, annual plans priced from $15.58 to $97.58, and two-year plans ranging from $13.3 to $83.3.
11. SendX
SendX guarantees high deliverability rates without compromising on email volume, making it an exceptional email marketing tool.
With an intuitive email editor, tagging, and segmentation capabilities, SendX empowers users to craft targeted campaigns that resonate with their audience. Automation and drip campaigns further enable engaging interactions throughout the customer journey.
SendX's reporting features, including heatmaps and dashboards, offer real-time insights into campaign performance. Reliable email, chat, and phone support ensure assistance is readily available.
Professionally designed email templates, coupled with seamless integration with popular apps, facilitate the creation of impactful emails while streamlining workflow processes.
Pricing for SendX starts at just $7.49 per month for up to 1,000 subscribers, with higher-tier plans offering additional features and accommodating higher subscriber limits. Embark on a 14-day free trial with SendX and elevate your email marketing endeavors to new heights.
Noteworthy Contenders
While we've delved into some of the top-tier email platforms available, there's a plethora of exceptional choices that remain unexplored.
A few standout contenders deserving of honorable mentions are:
Klaviyo
TotalSend
Campaign Monitor
InfusionSoft
Pardot
Eight Crucial Attributes of an Email Marketing Platform
Having gained insights into the finest email marketing platforms available, here's a swift rundown of the essential qualities to keep an eye out for when selecting the optimal platform for your needs.
Exceptional Mailing List Management
Robust Content Editor
User-Friendly Interface
Effective Customer Segmentation
Strong Integration with Third-Party Software
Robust A/B Testing Capabilities
Comprehensive Analytics
Dependable Deliverability
Choosing an email marketing platform equipped with these attributes can yield countless hours of saved effort and streamline your email marketing endeavors.
By embracing these advanced platforms, copywriters and entrepreneurs can sidestep manual handling and efficiently achieve a range of business objectives, including sales promotions, product awareness, brand engagement, and lead generation.
Concluding Remarks About Email Platforms
Employing an exceptional email marketing platform that fulfills all your business requirements stands as a crucial prerequisite for a triumphant email marketing campaign launch.
Hence, it's imperative to ensure a comprehensive understanding of your business needs before committing to any email platform, selecting one that seamlessly meets those demands.
When deliberating on the ideal email service provider (ESP) for your brand, it's wise to opt for a choice that aligns with your business's growth trajectory.
Why is this important? The complexities of transitioning between ESPs involve rebuilding the sender's reputation, navigating data migration intricacies, and revamping email funnels and campaigns.
Selecting the right email marketing platform has the potential to ignite your brand's expansion and foster profound, meaningful connections with your valued customers.